BICYCLE FITTING
What size bike frame do I need? We can help you with a bicycle fitting service to get you millimeter close to your perfect road bike, the best way to get the correct bike frame size. We also have a demo fleet to help find the best mountain or hybrid bike for you. Saddles can be a real pain so AW Cycles also has a saddle fitting and bike seat adjust service to find the best saddle and get it set up right. If you are clipped in we can fit your cleats as well. What ever your passion in the cycling world we can help get you on the right bike and fit the bike to you. Why not book a bike fitting now?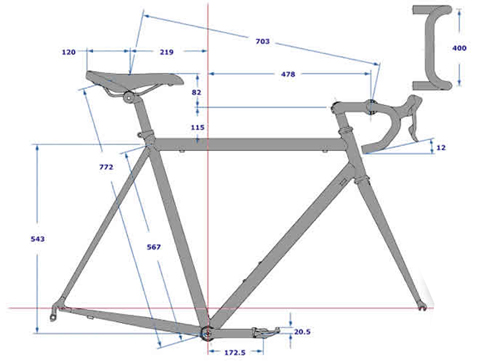 HOW DOES IT WORK?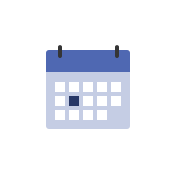 BOOK YOUR FITTING
The bike fit can take half an hour or so, you can book a bike fit or contact us another way here.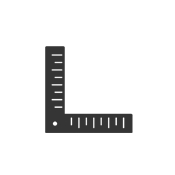 GET MEASURED
This a comprhensive system 9 point biometric bike fit and to get it right we will need you to bring in a sleevless top, cycling shorts and have an idea about the pedals and shoes you will be using.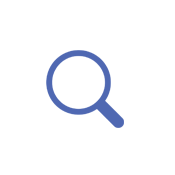 SEE SUGESTIONS
Once we have all your bike fit measurements we will go away and study them to find the makes and models with the best bike frame size that best suit you and your riding style.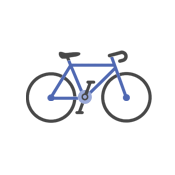 ENJOY YOUR BIKE
Choose the best fit or the bike you like the best and enjopy it.
HOW TO SIZE A CHILD FOR A BIKE
The most reliable way of getting the right kids bike size, is to measure inside leg and arm length as there is a large spread of "normal" leg lengths & heights for each age.
Please take the time to measure the rider's inside leg. It's easy to measure:
Stand the child in socks against a wall
Place a small book between their legs, as high as is comfortable
Ask the child to move away and measure from the top of the book to the floor.
Fitting Guide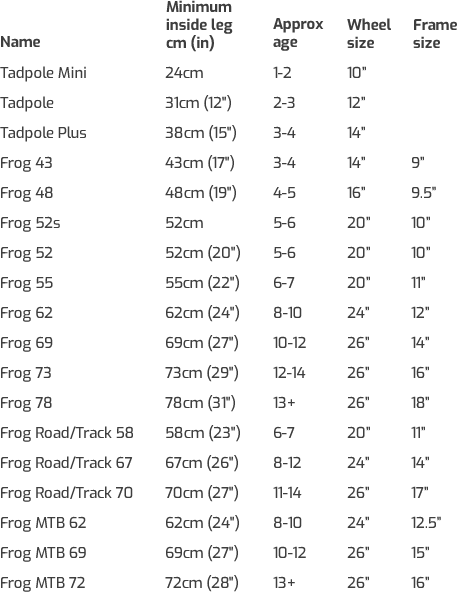 Once you have measured the inside leg, use this table to find the right kids bike sizes. Note we give the MINIMUM inside leg length for each bike, with the saddle at its lowest setting. At this height, the child will safely and comfortably be able to get their feet on the ground.
Of course all children have different length arms and torsos too, so to ensure a comfortable riding position, the handlebar height can be tailored, and saddles can be slid backwards and forwards on their rails. (These adjustments are easy to do and just need an allen key or we will be happy to do it as well.).
Check out the most trusted brands from more then 150 leading manufactures presented at our store