DELIVERY AND RETURNS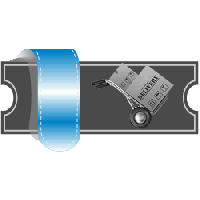 Delivery costs for the UK
Standard Delivery via Royal Mail is free for UK Mainland addresses on items over £25 except for over sized or over weight items. These exceptions are marked clearly on the product page on the "More Info" Tab and in the checkout at the "Shipping Information" Stage.
During the checkout process you have the option to pay a fee to ensure priority dispatch, which means that orders placed before 2pm are sent the same day via Royal Mail Recorded Delivery, Special Delivery or Next Day Courier service as appropriate. In this case the shipping method varies depending on the goods ordered, but your priority dispatch parcel will always need to be signed for on delivery, so if you require urgent delivery please make sure someone is there to recieve the goods.
The fee for priority dispatch also varies depending on the goods ordered, and will be clearly shown before you complete the order so you can change your mind if the fee is too high.
Delivery costs outside the UK
We do not ship put of the UK for the moment as we are concentrating on the UK market.
Delivery to alternate addresses
Although an alternative address can usually be accommodated we reserve the right to restrict delivery to the cardholders statement address only, we will of course contact you if this happens.
Standard Delivery Times
Items on the website show an estimated delivery time for each size and colour option. These are the expected UK delivery times if you choose the free delivery option.
Priority Shipping
When you choose to pay extra for priority dispatch and place your order by 4pm your order will arrive the next working day, subject to stock availability. If an item is out of stock deliveries can take longer. Similarly, during peak periods (for example Christmas) we recommend you allow plenty of time for delivery. As certain suppliers have longer lead times than others please allow up to 28 days for delivery in the UK for special orders and out of stock items.
Next Day Delivery
Next day delivery orders must be in by 2pm so we can get them to the courier. Orders made after 2pm will be processed with the orders for the following day.
Returns & Refunds
We want you to be happy with every purchase which is why we offer a no quibble, satisfaction guaranteed Returns policy.
We will accept returns sent at the buyers expence, unless the wrong item is sent or the item is faulty in which case we will refund reasonable postage incured. Please use the returns form on the rear of your invoice when returning goods.
Please fill in the returns form included in your order or print a new one here. Include the Returns Form with the product and post to:
AW Cycles,
AW Cycles 110 Henley Road Caversham Reading RG4 6DH
You can return items to us in accordance with the returns policy described in this section.
Right to cancel
Under The Consumer Contracts (Information, Cancellation and Additional Charges) Regulations 2013 you have a legal right to cancel the contract between you and us within 14 days of delivery without giving a reason unless the product is a custom order/ bespoke order.
The cancellation period will end after 14 days starting the day after you or a third party acting on your behalf (excluding the company that delivers the Product to you) takes physical possession of the Product you ordered. Where you order multiple Products in one order or a Product is delivered in separate parts, lots or pieces, the cancellation period will end after 14 days starting the day after you or a third party acting on your behalf (excluding the company that delivers the Product to you) takes physical possession of the last Product, part, lot or piece that makes up your order.
To exercise the right to cancel, you must inform us of your decision to cancel your contract with us by making a clear statement (e.g. a letter sent by post or email). The easiest way to do this is to contact our Customer Services team.
To meet the cancellation deadline, it is sufficient for you to send your communication concerning the exercise of your right to cancel before the cancellation period has expired.
Effects of cancellation
If you cancel your contract with us, we will reimburse you all payments received from you, including the cost of delivery.
We will make the reimbursement without undue delay, and not later than: (a) 14 days after the day we receive back from you any Products supplied, or (b) (if earlier) 14 days after the day you provide evidence that you have returned the Products, or (c) if there were no goods supplied, 14 days after the day on which we are informed about your decision to cancel this contract.
We will make the reimbursement using the same means of payment as you used for the initial transaction unless you have expressly agreed otherwise; in any event, you will not incur any fees as a result of the reimbursement.
We may withhold reimbursement until we have received the Products back or you have supplied evidence of having sent back the Products, whichever is the earliest.
You are only liable for any diminished value of the Products resulting from the unfair/unreasonable wear and tear of the Product which is not necessary to establish the nature, characteristics and functioning of the Products. We may make a deduction from any reimbursement (you are entitled to from us) for such loss in value of any Products we supply.
Faulty or mis-described goods
If you are returning the Products to us because they are faulty or mis-described, we will refund: the price of the Product in full; any applicable delivery charges. As a consumer, you will always have legal rights in relation to Products that are faulty or not as described. These legal rights are not affected by the returns policy or these terms and conditions of sale. We will refund you only through the payment method used by you to pay.
How to return the Products
You must return Products to us as soon as reasonably practicable.
You will be responsible for the return costs of the products.
You must take care when opening packaging that the Products were delivered in and carefully re-pack the Products in the original (or similar) packaging prior to returning the Products to us. If any damage occurs from the point of collection from you and re delivery to us then you are liable for the cost of damage.
If the item is sent to you boxed then for us to be able to accept the return it must be returned in the same box it was sent to you in or we cannot accept the return.
We guarantee to replace or refund faulty products returned within a 366 day period (1 full year) from purchase date. We will replace or refund goods which don't fit, are unsuitable or are simply unwanted provided the goods are unused and are in a saleable condition with tags and packaging intact.
If you are not entirely satisfied with any aspect of your experience with AW Cycles, please email, phone or write to us. Full contact details are available on our contact page.
We always endeavour to respond as quickly as possible.